THE ADVENTURES OF PLATY AND THE GANG
June, 2007
Upper UP Michigan
---
On June 7 we arrived at the Curry Tourist Park in Ironwood, MI.
Judy started biking the next day in the center of town where she had left off last year and headed east. She had made it out of town and started up a hill on a back road toward the Ottawa National Forest when she had a major bicycle malfunction. When she shifted into a lower gear the derailleur went into the rear spokes. The end result was several missing spokes, a bent chain, a ruined shifter and a few scrapes on her leg. Luckily I arrived a few minutes later on my way to the destination I happened by. With no hope of roadside repairs, she switched to my bike to finish the day. It was also fortunate that there was a bike shop in town where parts were available.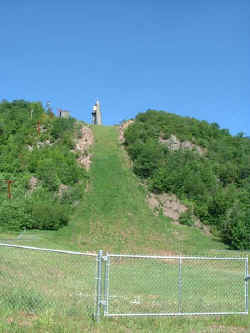 She biked past Copper Peak, the only ski flying hill in the western hemisphere. This picture was taken from the bottom of the hill looking up. The lift is on the left. The white square close to the top is where the elevator stops. There are stairs from there to the top.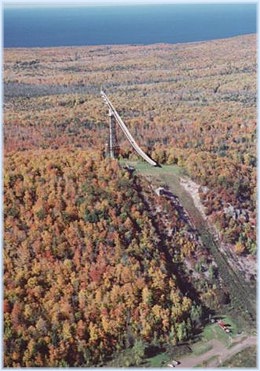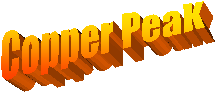 "During the summer and fall seasons, visitors can ride the 800 - foot chair lift to the crest of the hill, then take the 18 - story elevator to the main observation deck on the giant ski jump. (From here some elect to walk the additional eight stories to the very top start gates.) These vantage points provide the highest, Most awesome, unobstructed vista in the Midwest overlooking more than 2500 square miles including parts of Michigan, Wisconsin, and Minnesota."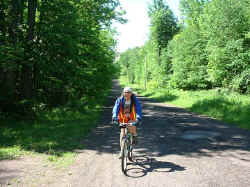 She ended the day at the beginning of the hiking trail on my bike. The only way she could get off of it was to lay it on the ground and step off.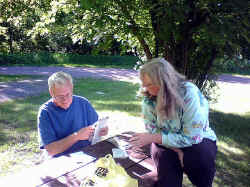 Jerry arrived later that day to join the hike. This is the planning session.
Hiking actually started on 6/9 into the Ottawa National Forest.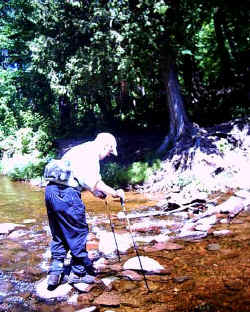 Jerry complained that Judy always had him go first so she could take his picture in awkward situations.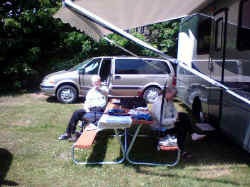 The normal routine when returning to camp became "tick picking" shown here. The ticks and black flies were terrible. On the way back to camp the ticks were thrown out of the window. Once back at camp needle nose pliers were used to eliminate them.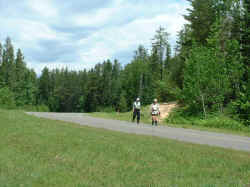 Note: I have "lost the rest of this web page. I will try to repair it when we return to Florida this fall.