THE ADVENTURES OF PLATY AND THE GANG
VOLUME 5
9/2/2000

---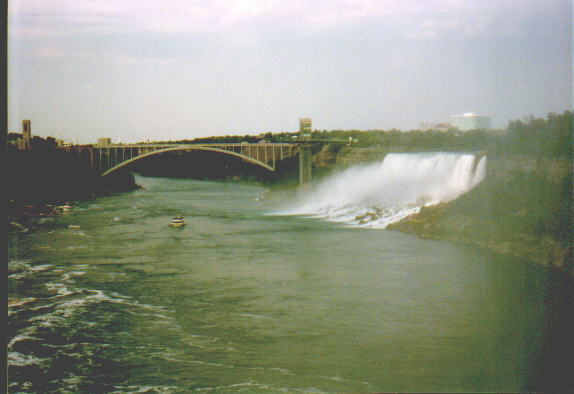 While in New York we decided to visit Niagara Falls. We walked the complete American side and had lunch overlooking Horseshoe Falls. Everyone had told us the Canadian side was much better so we decided to walk over on the bridge.
We walked through the turnstile on the US side and were in no- manís land on the bridge. When we got to the other side we were asked if we had any weapons and what we wanted to do in Canada, then they let us in. The views of the falls are much better from that side and the park is nicer and more crowded. After walking the entire length of the park and back, we went to return to the US. What do we find but a turnstile on the Canadian side that charges 50 cents each? We collected our change and headed across the bridge to American customs. The people in front of us had Jamaican accents and no I.D.ís. They made them wait while they asked us for IDís and where we were born. Judy thought we might have to stay in Canada, but they finally let us back.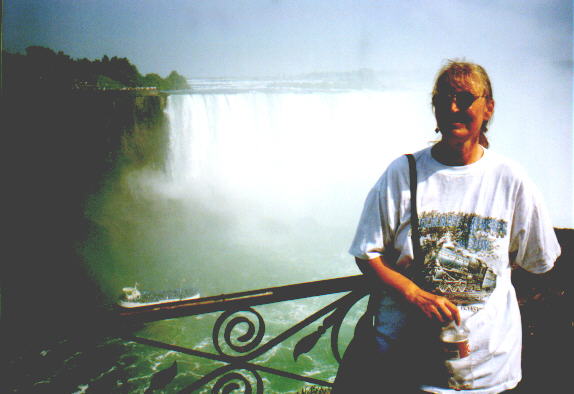 Next StopóHamilton.
Well Camden anyway. We tried to stay at Hueston Woods but they donít take reservations. The Ranger on the phone said they would however register over the phone with a credit card on the day of arrival. When he transferred us to the campground we were told that they had already done it 5 times that day and would not do it for us. They said they had a few spots left and would not guarantee that they would be there when we arrived. We were stuck in a traffic jam in Columbus. It was 6:00 and we hadnít had dinner and wouldnít arrive until 8 or 9 oíclock. We looked at our Woodallís camping directory and found a campground in Camden, Ohio. While the showers werenít the cleanest, we decided to stay for the weekend of Judyís class reunion.
We drove around Oxford, Millville and Hamilton. Oxford is no longer a small town. They now have busses for the students because the campus is so large. Millville is the same as before. There are a few more houses, especially in-between Oxford and there. Western Hamilton even has a Wal-Mart now. The wooden bridge on Boyle road is gone and there is no Poor House Hill. Itís now a 4-lane highway.
We did eat the foods that arenít available in Florida. We had steak sandwiches at Richardís Pizza, Skyline Chili and Frisches fish sandwiches.
We went to Judyís class re-union on Saturday night. We saw Bob and Sue Lowry and others.
From Camden we went to New Richmond and stayed at Joe and Sueís place on the river. They have 18 acres where they dock their boat. On the hill they have a building where each of them has a workshop. Buzz and Loretta Gaskins visited one evening for a boat ride and dinner at the Landings in New Richmond. Sue said we could stay longer and Buzz said he could put Bob to work on the boat he is building, but we moved on to Virginia.

| | |
| --- | --- |
| | This is the park where we were headed. At Pikeville Ky. we felt the now familiar bouncing of the motorhomeÖ another bad tire. We stopped at a tire dealer but he couldnít see anything wrong. Since it was late afternoon he wouldnít have time to remove them so we went on toward the park. 20 miles further it became so bad that we called road service to change it. All the service trucks were working in the coalmines so we found a service station that would change it for us. When it was removed we could see a one inch offset in the tread. We then drove the remaining 8 miles up the mountain on our bad spare. When we left the park 8 days later we limped into Pikeville and replaced all the remaining old tires ($580.00 and another whole day at a tire store). |
These pictures are of the canyon at the Breaks Park. In the left picture you can see the train track and tunnel at the bottom. We drove down a forest road one day to get a picture from the river at the bottom. The rocks are the Towers shown on the previous page.
We went on a ranger led hike of one of the trails at the park.

This is Terry (he pronounced it Turry) showing Judy something in the stream.

Itís hard to see but on the other side of the stream are a rock overhang and a 50-foot cliff that goes straight up.

On Saturday night and Sunday afternoon they had bluegrass and gospel music with 6 bands performing.

We stayed for all 7 hours.

The only cost was when they passed the hat for donations.

This is Bob playing in the creek.

Actually heís trying to cross the creek on extremely slippery rocks.

This is on one of the trails that we thought would be easier than climbing down the mountain to get to the river.

What you donít see was the a few minutes ago he fell on his butt and cut his elbow so he took off his shoes and tried to wade across (not to mention the bee sting on his leg).

The wet spot on the rocks is where Judy had already crossed.

This park is on the top of a mountain in the middle of coal country. Itís a joint venture between Kentucky and Virginia. Itís only $10 per night for a full hook-up or $60/ week. They have a lodge, swimming pool, cabins, restaurant and conference center. There is a lake with paddleboats and horse back riding ($10).
Next Stop is Natural Tunnel State Park in Virginia - 8/25-9/1
This park has only 22 camping spots but is very nice. The camp host is from the Ocala area and has been here 7 months this year.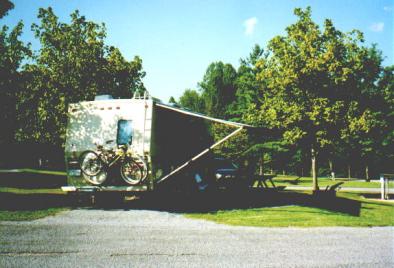 This is our spot. We could not get reservation for Labor Day weekends so we could only stay until Friday. During the week there were only a few other campers. One night there were only the host and us. The ranger told us that if the host got too noisy to let him know. Since he was 80 years old and only has 10% heart capacity we didnít think it would be a problem.
On the first day there Bob saw what looked like a single grave 20 yd. below the campground in the trees and went to investigate. What he saw was a cross with the name of a lady who died in 1946. Just then a dog started howling from the woods. He hotfooted it back to the campgrounds and asked the host what the story was. It seems the lady was so mean that when she died her relatives wouldnít bury her in the family plot that was about a mile away. They buried her in the woods by herself. The State bought the land in 1967 and the host and his wife decided to clear the grave area a couple of years ago. The hostís wife developed a bad case of poison ivy and quit working. Last year the Maintenance men decided to build a fence around the grave but wherever they dug to put a post they hit rock and gave up. The posts are still stacked there. There was a tall pine tree in the clearing between the grave and the campground. This year it was struck by lightning and was cut down. According to the Ďlegendí her ghost would climb the tree to look for her relatives but God didnít like it so he got rid of it. The dogs howling were actually on a farm beyond the trees. Bob didnít go down there any more.
Bob did spend 4 hours over 2 days waiting for a train to come through the tunnel so he could get this picture.

We kept hearing them but they were never there when we were.

We had to ride the chair lift to get down to the tunnel or walk down 600 ft.

We rode.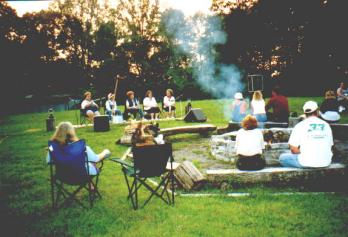 This was out entertainment for one night. These are 5 ladies who play along with bluegrass records. They play a tambourine, spoons, washboard, bathtub bass, and a jug. They had a lot of fun and put on quite a show. The fire was for the marshmallow roast.

| | | |
| --- | --- | --- |
| | While at Natural Tunnel we drove to Big Stone Gap, where we saw the Southwest Virginia Museum, the #101 car, and the Coal Museum. | |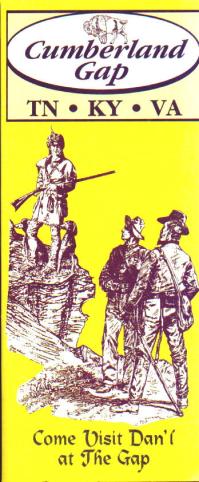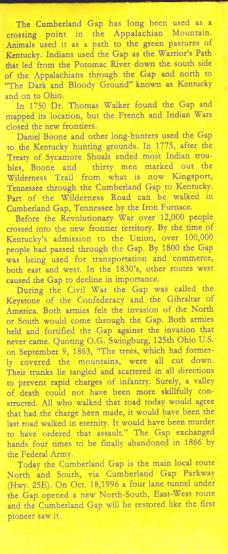 We made a day trip to Cumberland Gap since weíd never been there. They have built a tunnel and re-routed the highway so that they can restore the gap to its natural state. It has taken since 1940 to accomplish this much. The tunnel was completed in 1996 but the old 4-lane road is still there. I guess that will take another 50 years.
We also visited Bays Mountain in Kingsport, Tenn. The have outdoor displays with otters, wolves, deer, raccoons, and birds of prey. (No platys)

We are outside of Abingdon, Va. at a commercial campground. The state parks were a full for the Labor Day Weekend. We got the last space in this place that was open. Its called Riverside Campground. Unlike the state parks they jam in as many people as possible. The entire riverbank is full of tents and pop-ups with a pickup truck parked in every open space. Every space has at least 1 dog and as many kids as possible.
The park has organized games, bands, and other activities. We however are biking and exploring the area.
Platy is learning the local language from the people here and is our interpreter.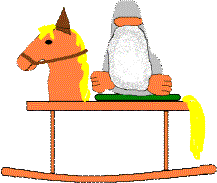 Tuesday 9/5 we are moving to Grayson Highlands State Park for 2 weeks. We havenít made any plans yet beyond that.