The Adventures of Platy and the Gang
2003 Volume 16
September 2, 2003
Grayson Highlands State Park
---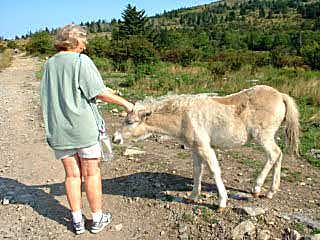 On 8/24 we arrived at Grayson Highlands State Park in Virginia. This is the home of the wild and vicious ponies. We found them hiding on the top of the ridge. They like to hide and laugh when you can't find them. This one is attacking Judy.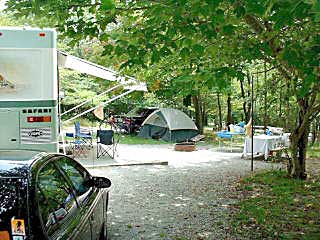 Ken and Phyllis Weber met us on 8/28 and stayed for a week. We were allowed to put their tent on the same campsite as the RV. The park was crowded because of Labor Day and because we didn't have reservations we had to move twice. It wasn't too bad because we just picked up their tent and carried it to the new site without taking it down. We must have looked like gypsies moving around the campground.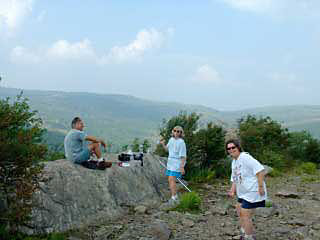 The first day we hiked to the top of Wilburn Ridge to see the ponies, eat some wild blueberries, and have a snack.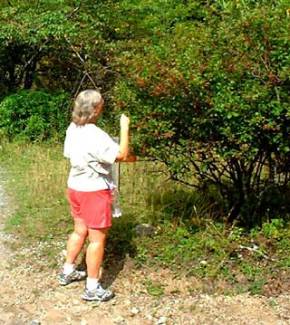 Every trail we hiked took longer because of stopping to eat berries. We even took a bag along and collected enough for a pie for dessert one evening.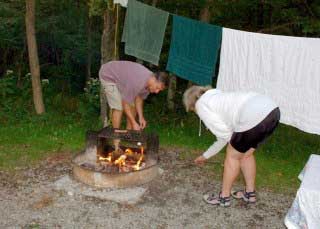 The nights we didn't have blueberry pie we had smores over the campfire. Here are the experts showing the proper technique for roasting the marshmallows.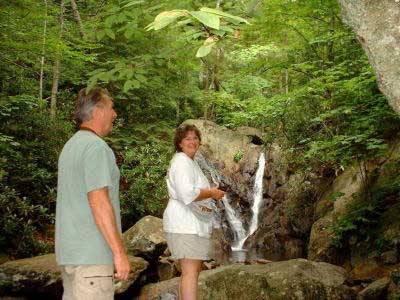 This is Phyllis and Ken at a waterfall on the Cabin Creek Trail.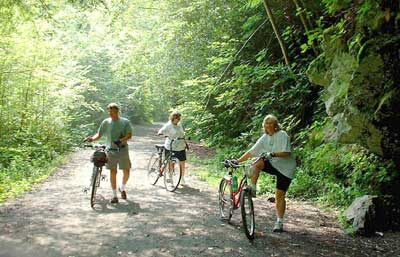 We biked on the Virginia Creeper Trail on different two days. Ken said his neck was sore from turning left and right trying to see all the sights. The trail follows a creek and then a river, crossing many trestles and passing lots of waterfalls.
Everyone stopped at this spot because of hundreds of butterflies. Ken didn't believe it until we talked to a local who was biking that this is one of the top trout streams in the country.
I haven't tried this link but it may contain info on the trail.

www.grayson.va.us


We left Grayson on 9/3 and headed to Cosby, Tennessee. The Weber's went on back home to Florida. The weather forecast was for a lot of rain. That doesn't make for fun tenting.
It rained all night the night we arrived and half the next day. We didn't hike as planned but went to Gatlinburg for lunch instead. We will leave tomorrow for someplace. We don't know where yet.

---