The Adventures of Platy and the Gang
2003 Volume 17
September 17, 2003
Tennessee Waterfalls and Georgia Parks
---
On 10/5 we started our waterfall tour of Tennessee. We stayed at Tennessee State Parks starting with Cumberland Mountain State Park.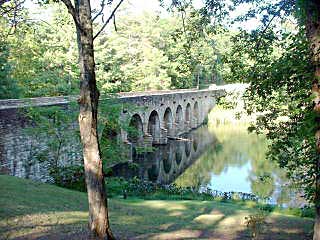 Cumberland Mountain State Park
Cumberland Mountain State Park is situated on the Cumberland Plateau, a segment of the great upland, which extends from western New York to central Alabama. This 1,720-acre park was acquired in 1938 as a project of the farm Security Administration to provide a recreation area for some 250 families selected to homestead here on the Cumberland Plateau. The Homestead Act was established by the Roosevelt Administration to aid in the further colonization of this sparsely populated section of Tennessee. The Act also provided homes, food, and jobs for the people of surrounding counties. The Civilian Conservation Corps (CCC), the Works Projects Administration (WPA), and the American Friends Service Committee (AFSC) constructed the park. It was opened to the public in 1940. Most of the buildings are constructed of a local sandstone rock called Crab Orchard stone. The Crab Orchard stone dam and bridge at Cumberland Mountain is the largest masonry structure ever built by the CCC.

We shopped at the Cumberland General Store. They advertise "...complete outfitters with goods in endless variety for man &amp beast". Where else can you find McGuffey's Readers, corn cob pipes, copper bathtubs, and harness parts? It's one of the most unusual stores I have seen.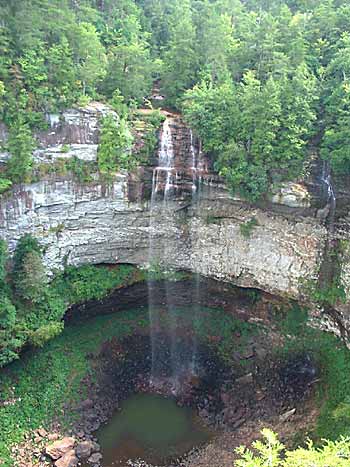 Falls Creek Falls State Park
The next stop was the Falls Creek Falls State Park. We drove the scenic drive and hiked to the falls and overlooks. Judy found a friend at one of the overlooks. He tried to eat her shoe. A ranger told us he had been relocated twice but keeps returning. This is the tallest falls in the eastern US at over 200 feet.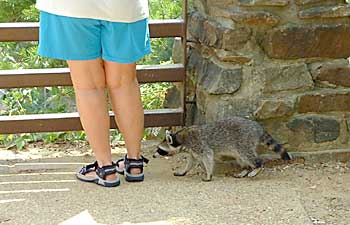 Rock Island State Park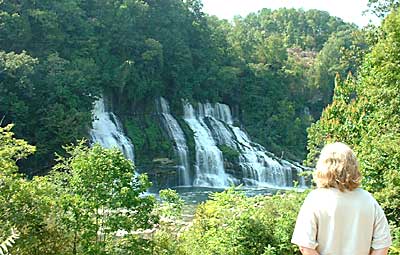 The last Park we stayed at was Rock Island State Park. A dam and hydroelectric plant was built in 1917 to create the Great Falls Reservoir. The park was created around 1970 on land leased from the TVA.
Twin Falls did not exist until 1917 when the dam was built. The water is actually coming from an underground leak. There is no river upstream. The water is coming from underground openings in the rock layers that originate on the other side of the hill under the reservoir about 1/4 mile away.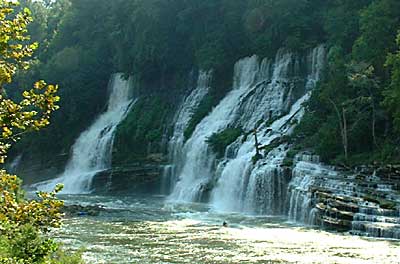 There were 2 kayakers riding the waves at the bottom of the falls.


The web site for Tennessee State Parks is: www.tnstateparks.com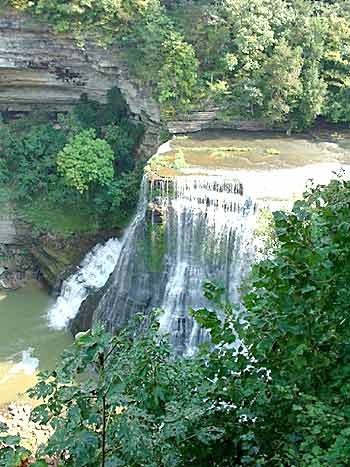 While staying at Rock Island we took a day trip to Burgess Falls State Park. We had to hike 3/4 of a mile to see this falls. There were other falls along the path but the trees wouldn't allow any pictures to be taken.
We had lunch at 'Mama Mae's', a restaurant that has been featured in "Country Discovery Magazine" and "Best of the Best Cable Food Channel". They serve southern homemade recipes such as fried catfish and hushpuppies. Even though it was stretching my diet, I had beans and cornbread. It was good .
We have decided to start heading toward Florida and home. We have been traveling since April and need a break. Since we are close to Springhill, TN, the home of Saturn, we will try again to take a tour. The last time we were scheduled to take the tour I had my heart problem that morning and spent the next few days in the hospital. Hopefully this time will be better.

---

Well, the tour went off without a hitch. It was really interesting. The Saturn complex is huge. They have approx. 8,000 people who work there (they call themselves "team members") and have a capacity of 1,000 cars a day. There is 2,400 acres, half is factory and half is farmed. They grow corn and soybeans. They don't allow cameras so I didn't get any pictures.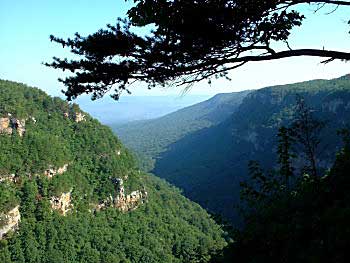 On our way south we stopped in Georgia at some parks we hadn't visited before. The first was Cloudland Canyon. It's just across the border near Chattanooga. It is located on the same plateau as Lookout Mountain and contains a deep canyon with a couple of waterfalls. Since you must hike down 1500 feet and then back up, I decided to just enjoy the view from the top.
www.gastateparks.org/info/cloudland
We had seen so many ads for "See Rock City" that we went there. It was actually pretty interesting. It was originally a private garden until the depression. It was then opened to the public. It is a large-scale rock garden containing 400 species of local plants. The rocks are huge boulders and the paths lead over, under and all around them. Since it is on the top of Lookout Mountain, there are overlooks where you can see 7 states. We had lunch and spent a couple of hours there. on the way back to the campground we stopped at an overlook and watched a hang glider being towed up by an ultra light and flying back down to an airport in the valley.

A BRIEF HISTORY OF ROCK CITY GARDENS

In the late 1920's, Garnet and Frieda Carter began to develop a large walk-through garden on their private estate. In 1930, Frieda marked the original path that was constructed and is now maintained by master craftsmen from this area. By gathering and preserving over 400 varieties of plant life indigenous to the region, Frieda received national acclaim from the Garden Club of America.
On May 21,1932, during the Depression, the Carters opened their "Rock City Gardens" to the public. Garnet, the inventor of Tom Thumb Miniature Golf, saw a great potential in the attraction business; and, in 1935 started one of the most unique promotional campaigns ever envisioned. By having barns painted beside the highways leading into Chattanooga, Mr. Carter made their gardens and his advertising ideas a part of this region's heritage.
Today Rock City is preserved as one of America's great private gardens and family attractions.
---
We then moved to Florence Marina State Park. It´s located on a lake on the Chattahoochee River on the Alabama border. There was a town located here in the early 1800´s. The park occupies the land where it was. There is nothing left. We spent a day hiking at Providence Canyon State park and at a recreated village called Westville.
Providence Canyon

The Park was opened in 1971 and the canyon is less than 200 years old. It was caused by erosion resulting from poor farming practices.

Westville never existed as a real town, but was recreated and developed as a center of living history of the period. Most of the buildings are from nearby counties and were all in existence before 1850.
This is the Chattahoochee County Courthouse. President Carter rededicated it here on July 4, 1976. His ancestors actually worked in this building.
And this is the real Judge Judy.
---
| | |
| --- | --- |
| | Here Judy is explaining to the interpreter how to cook. You believe that, don't you ???? |
We are now headed for Daytona Beach to visit friends for a few days and then to return home. We just hope it isn't too hot yet.

---