THE ADVENTURES OF PLATY AND THE GANG
2008 Lower Michigan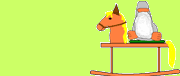 (click on the pictures for a larger view)
---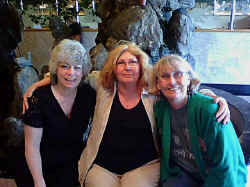 We left Florida on 4/23 headed North for Michigan. One of our stops was in Cincinnati where we stayed at the FMCA campground. Since it's free for members to stay for 2 days we decided to take advantage and have lunch with a friend, Joyce, we hadn't seen in years. She surprised us and invited Terry and Les who we hadn't seen in over 20 years. We had a nice visit and will stop again when we are thru next time.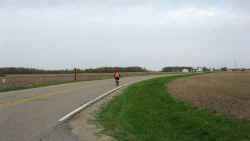 Judy resumed the North Country Trail at the Ohio-Michigan border on 4/28. The first few miles were a road walk so it was biking until she reached the first trailhead.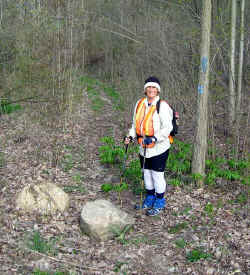 Our campground was right on the border. In this picture I am standing in Ohio and the motorhome is in Michigan.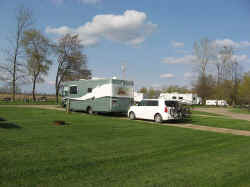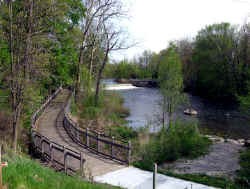 For the next few days it was bike a bit, hike a few miles and then bike some more. The trail in Battlecreek follows the river thru downtown.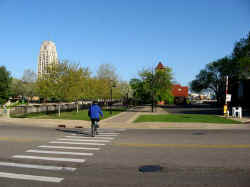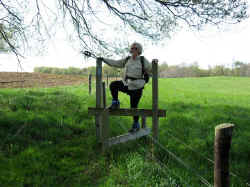 North of town the trail goes thru the W.K. Kellogg Biological Station at Michigan State University. It's over 4000 acres. The trail skirts around the fields. She had to cross fences like this several times.
Once thru the farm it was more biking and hiking to connect with where she stopped last year.
We then moved up to White Cloud to resume another missing section from there to Petosky.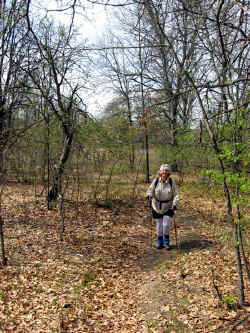 On 5/12/and 5/13 we stayed at the Pere Marquette RV Park near Baldwin, MI. This is a condominium park that rents sites when the owners are away. We were able to rent for the Passport America rate of $17.50/night. Not bad for full hookup with cable TV. They did try to sell us one of the lots that were for sale (approx. $35k) but there was no pressure and who wants to buy in this area?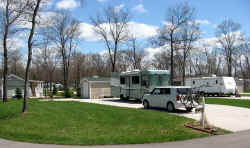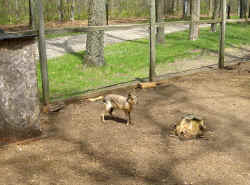 On 5/14 we moved north to the Enchanted Acres CG in Irons. We stayed for over a week there. It's a lot less ritzy than the last place but the have their own zoo. The guy in the picture is a Patagonian Mara. We thought is was a big bunny.
I normally hike in from the end of the day point and meet her. I made a video.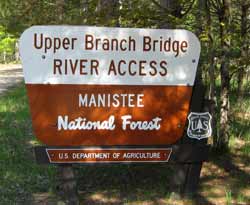 A lot of the areas she is hiking in are National Forests. These are the areas where there is actual trail. If they can not get permission to cross private property then there are road walks (or bikes) to get to the next trail section.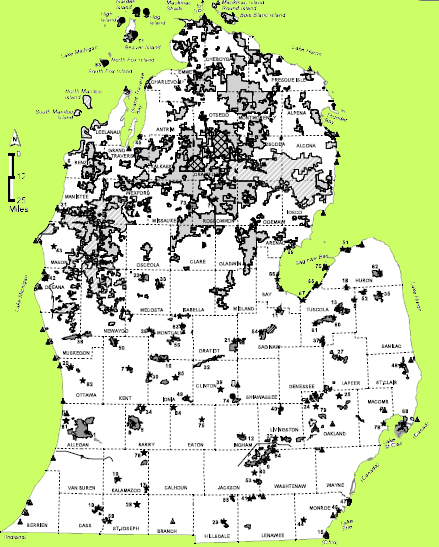 As you can see from this map a large portion of north central Mich. is public property. The gray areas are either National or State property of some sort.
A section of trail goes thru property owned by the local electric company. They own all the property around their hydroelectric dam, it's lake and the river below. Click here for more info.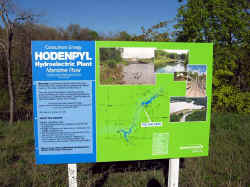 On 5/23 we moved to Mesick. It's on the northern end of Hodenpyl Lake. It was the only campground we could find close by that wasn't full for Memorial weekend. I called ahead and talked to the lady and made the arrangements sight unseen. Most of the campgrounds up here are not listed in the usual camping directories so it's hard to locate them unless you happen to see them while driving around. Their customer base is locals or repeat business.
When we arrived there was a house in front and no office. There were a few trailers visible but no people. It took quite a while for someone to answer the door but when she did I was invited in. She had me make the check out to her because she had no business account. $15/day full hookup, 50 amp. It ended up being a great place. There were 3 other groups there for 2 days over the weekend but otherwise we were the only ones in the campground. She said she only makes enough to pay the taxes and I can see why.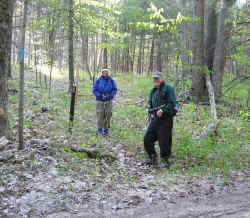 Jerry Groebe joined us here for a couple of days. As you can see from the attire in the picture it was a little chilly. It was below freezing one morning (our water hose froze). One week later it was in the upper 80's.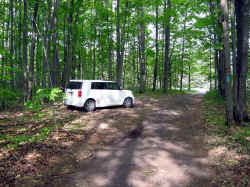 People always ask "What do you do while she's hiking?" Well, I have to find the next days end point to make sure I can get to it. I spend a lot of time on one lane sand roads. This is one spot where I had a place just big enough off the road to park and either stay with the car (if the bugs are bad) or hike in to meet her.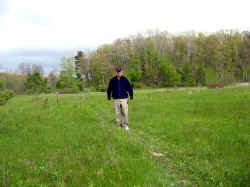 This is a place I hiked in to called the Sawdust Pile.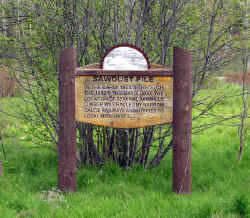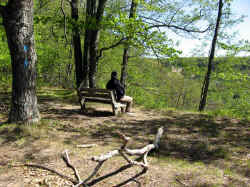 Sometimes I can find a nice bench and enjoy the view. This is an area called Highbanks Rollway along the Manistee River.

PETOSKEY, MI
On 5/31 we moved to Petoskey where we had stopped last year. We stayed at Mangus Park, the city campground, right on Lake Michigan. Jerry returned. He went home for a couple of days to do his "chores" so he would be allowed out again for 2 weeks. Judy did one day of road walks before Gerry's arrival.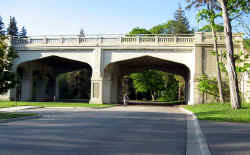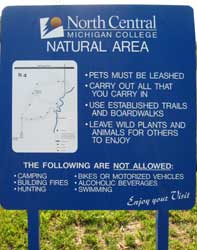 A portion of the day was not actually a road but a natural area of the local college campus.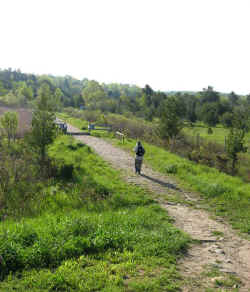 The last part of the day was also not on the road but thru a section of woods owned by the city. It's also used by off-road motorcycles.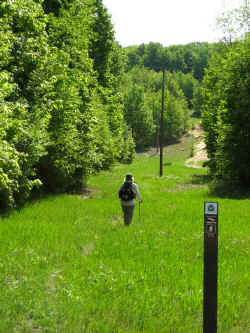 Her trail is on the left side of the poles, theirs is on the right.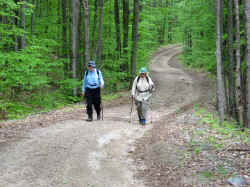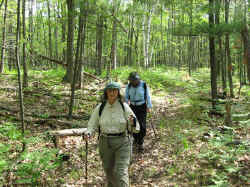 Most of the rest of the trail in Michigan is thru the woods. Sometimes it's on sand roads and sometimes it's just a pathway.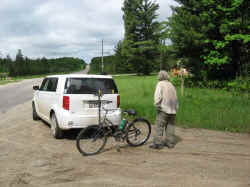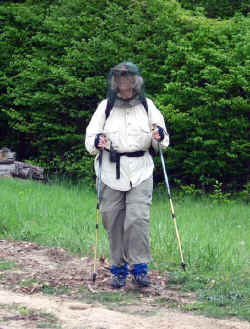 There was one short 4 mile area on a paved road. Jerry doesn't like paved so Judy biked after the days walking. The wind was blowing about 15 MPH towards her. That a a large hill at the beginning (above the car in the picture) didn't make her very happy!!!
The daily afternoon rains also didn't help with the mosquito problem. Head nets became a necessity. They would still bite thru the net or clothes if it wasn't away from your skin. She learned on this day to also tuck her shirt in after she got bitten all around her waist.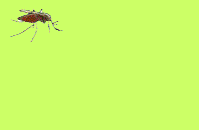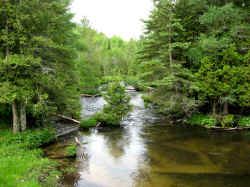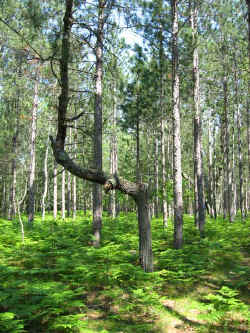 A portion of the trail goes through the Jordan River Pathway. This is a shot of the river.
There are numerous pine groves planted by the CCC all thru Michigan. This is an interesting tree in one of them. To read more about the CCC's click here.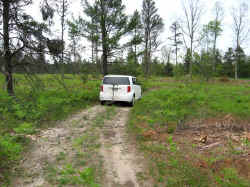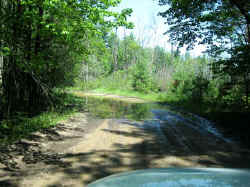 I thought I'd throw in a couple of more pictures of what I do while they're hiking. The one on the left is a section of trail I was able to drive on. Our maps we discovered were obsolete and didn't show this section but I found it and they hiked it the next day.
I had driven the road on the right a week before to pick them up but needed to return on the last day. The rains had caused the swamp on the right to overflow across the road. Since it was sand I didn't know how soft it was. I took a chance since I was still a couple of miles from the pickup point. Luckily it was solid. I took this picture on the way back out. Those are my tire tracks from before.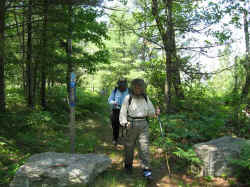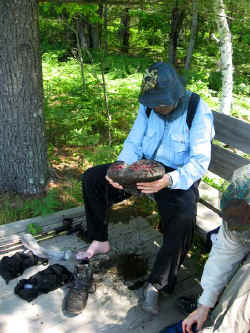 They finished Michigan on 6/14. There had been a really bad storm the night before that had flooded several towns in the area. The river they were hiking along was also flooding and the trail got too close not 1/2 mile before they were done. Not knowing the area they weren't able to go around the section so they waded through. It was knee deep and they couldn't see what was on the bottom. Jerry suggested in one spot to go more right but when she probed with her stick she couldn't find the bottom. Once they had finished they dumped their boots and wrung out their socks. Michigan was completed!!!!!
Next stop --- Pennsylvania
NCT Total
Mileage Hiked
North Dakota
427
Minnesota
736
(40 miles left)
Wisconsin
186
Michigan-UP
509
Michigan- Lower
545
Total
2402
Miles
The North Country Trail is approx. 4600 mile total. Only 2200 left to go !!!!