THE ADVENTURES OF PLATY AND THE GANG

Virginia State Parks Tour
(click on pictures for a larger view)
When you are a Camp Host at a Virginia State Park you receive 1 week of free camping for each month of volunteer work (max 2/ year). We have accumulated 11 weeks and decided to use a few. We started by going to parks we had never visited and staying a week at each.
Douthat State Park - 9/7-9/14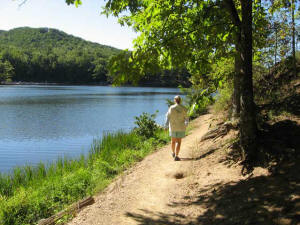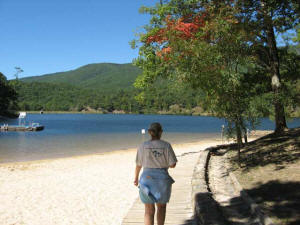 Our first stop was Douthat State Park in western Virginia. Douthat State Park opened June 15, 1936. It was one of the original six state parks of Virginia. The park and lake were built under the CCC program.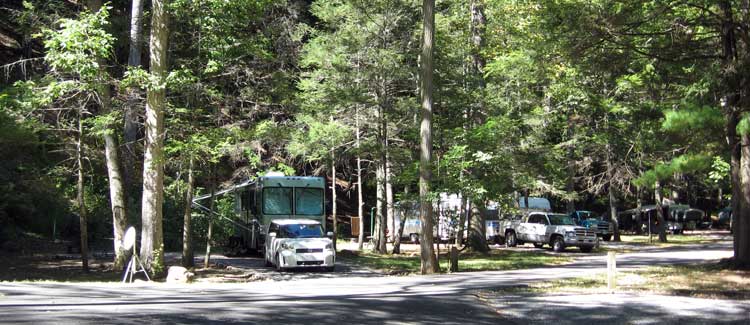 A day after we arrived Clarence and Mary (horse camp hosts from Grayson Highlands) arrived and took the campsite next to us. We enjoyed having someone to visit some of the tourist sites and go out to eat with.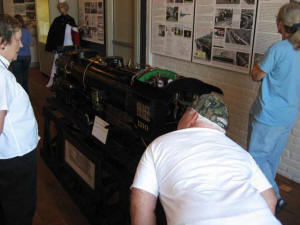 We spent a few hours at the C&O Railroad Museum in Clifton Forge. Clarence is closely inspecting one of the live steam models on display.

Shenandoah River State Park - 9/14-9/21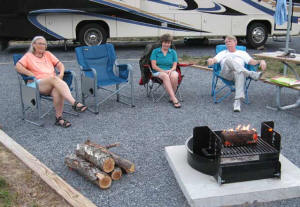 We tried
Shenandoah River State Park
on the recommendation of Daniel White. It's one of the newer parks and the campground just opened on 7/15. The camp sites are huge with 50 amp electric. Too bad they didn't install sewer also. Also, like a lot of other parks, the cell and TV reception was horrible.
A couple of days after we arrived Frank and Jeanie Walters (park hosts from Grayson Highlands) arrived. What are the odds that we would visit 2 parks and have other volunteers from Grayson visit at the same time? Again it was fun having someone to visit with.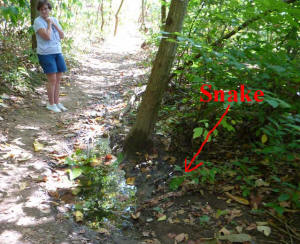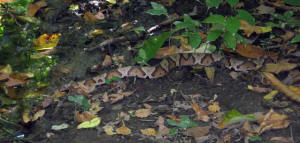 We all hiked a couple of trails in the park. While walking along the river trail I was in front with Frank behind me, Judy next and Jeanie last. Jeanie suddenly screamed and we all stopped the see what it was. A copperhead snake had been coiled right next to the trail and all three of us had almost stepped on it. Judy actually stopped a few inches away from it. Luckily it ignored us and slithered across the trail.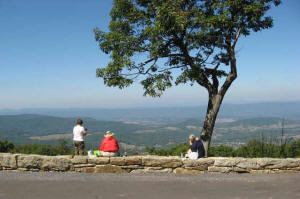 One day we drove up on Skyline Drive and had a picnic lunch at one of the overlooks.
Hungry Mother State Park - 9/21-10/4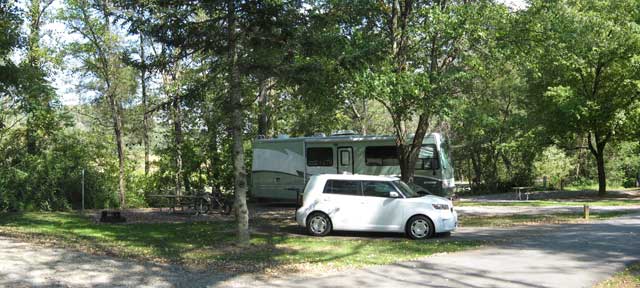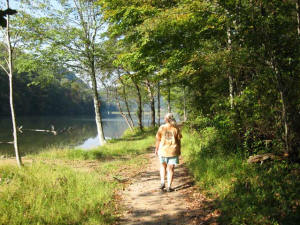 The campsite at Hungry Mother SP was one of the best. Full hookup, water, sewer and electric and wifi. All on a large shaded site with a paved parking spot for the car. What else could you want? And the price was right! We used our free weeks from volunteering.
We hiked the 6 miles around the lake. At the other end of the lake is another campground where we visited with Will, another volunteer we had met at Chippokes. He was camp host for the month here.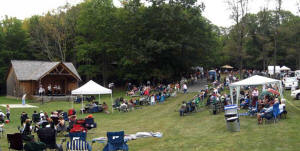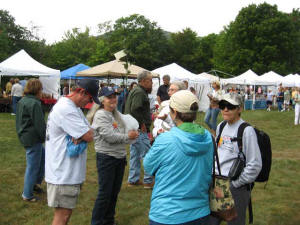 It happened to be the Fall Festival at Grayson Highlands on one Saturday. We drove up for the day and got to see a lot of friends.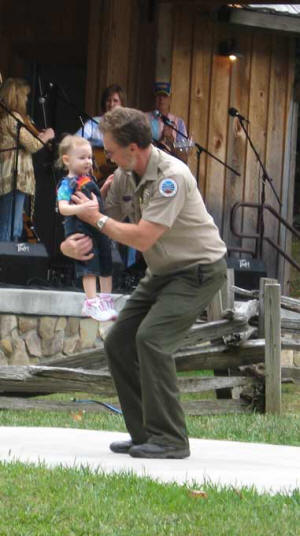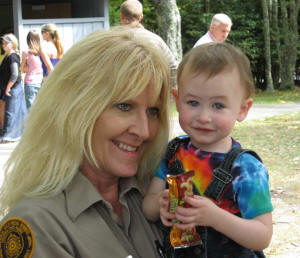 Daniel, Jennifer and Emma were also there. Everyone was especially glad to see Emma!! She even got to dance with Harvey.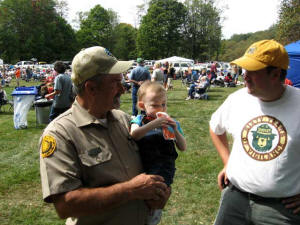 We spent a few days looking at houses for sale in the area and ended up buying one. We stayed at the campground for an extra week until we closed on it and installed a electric outlet to hookup the motorhome.


Send Email to: bob@bgeisler.com