THE ADVENTURES OF PLATY AND THE GANG

Back to New York
(click on pictures for a larger view)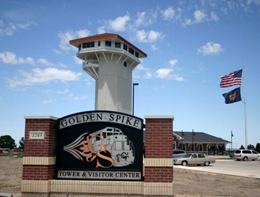 We had a short first day and visited the Golden Spike Tower that afternoon.
The Golden Spike Tower rises 8 stories above Union Pacific's 2,850-acre Bailey Yard the world's largest train yard.

The massive yard covers 2,850 acres, and includes one of UP's largest repair facilities, with space enough to house 3 football fields.
Bailey Yard handles 150 trains daily bound for cities as distant as the East, West, and Gulf Coasts.
Every 24 hours, Bailey Yard handles 15,000 railroad cars.
70% of train traffic through Bailey Yard is composed of unit trains (coal, auto, refrigerated, grain, etc.). These trains pass directly through the yard without being sorted.
Classification bowls for eastbound and westbound traffic contain 114 tracks and thousands of cars.
Over 14 million gallons of diesel fuel is used monthly.
The car repair facility repairs 50 cars daily, and replaces 10,000 pairs of wheels yearly.

Send Email to: bob@bgeisler.com