Return to Florida
We decided to leave for Florida in late October and to stop along the way to finish the last portion of hiking in eastern North Carolina. We were heading across Interstate 40 in the middle of 5 lanes when the left front tire blew.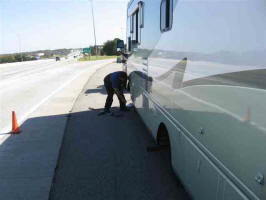 Luckily I was able to immediately get to the shoulder without too much trouble and into a really narrow breakdown lane. When road service got there a couple of hours later we had to drive on the flat about a half mile to an exit ramp where was room for him to work.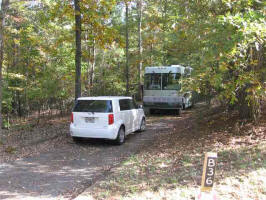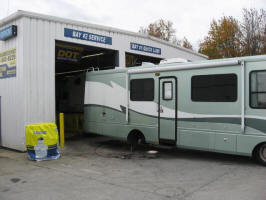 We finally arrived at Falls Lake State Park near Durham, NC late in the afternoon. Judy had a few days of hiking to finish the trail in this area so I scheduled to have the remainder of the tires replaced after we were on the way to Florida. They were approx. 6 years old so it was time.
I watch them change the tires but missed something. The old tires had balancing beads that have the consistency of talcum powder. When he removed the old tire he didn't clean the bead sealing area. One rear tire began leaking immediately requiring them to remount it. I should have made them remount the rest but I was in a hurry to get going.
Needless to say it came back to bite me in the butt. The next morning in South Carolina another tire was flat. A few hours and $130 later (road service doesn't pay for remounting) we were back on the road. I contacted the manager of the tire store and he agreed to reimburse me but guess what?? Months later I still haven't seen the money!! We finally made it back to the Florida house without further trouble.
A couple of weeks later another one went flat while in storage. This one cost me only $100 since I could add enough air to drive it to a repair shop.