THE ADVENTURES OF PLATY AND THE GANG

North Carolina
(click on pictures for a larger view)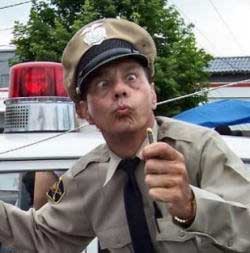 We arrived at the Mayberry Campground in Mt Airy, North Carolina on 8/27. Mt. Airy is the hometown of Andy Griffith and shows many similarities to Mayberry, his fictional TV town. Mt. Airy has capitalized on this and Mayberry items and locations are everywhere. We ate one evening at Goober's and had lunch at Snappy Lunch. Next door to Snappy Lunch is Floyd's Barber Shop.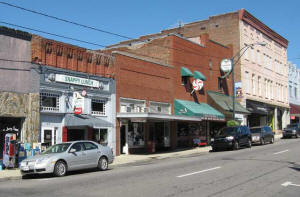 Snappy Lunch

On November 14, 1960, in the seventh show to air (episode 9 - "Andy the Matchmaker"), Barney had been walking shy seamstress, Miss Rosemary to church every Sunday. Andy decided it was time to get them together and suggested they "take in a movie, then go down to the Snappy Lunch to eat, have some coffee, and talk."
The real life Snappy Lunch diner is Mount Airy's oldest business whose southern heritage goes back to 1923, and a spot where Andy himself ate as a young boy. The diner's owner, Charles Dowell, nearly fell off his couch when he saw that episode in 1960 - and business at the Snappy Lunch diner has prospered ever since.
While subsequent episodes often have Andy and Barn going to 'the diner,' it's clear to Mount Airy residents that they were referring to their very own little Snappy Lunch eatery.
Epicurean note: If you're in the neighborhood, be sure to try Snappy Lunch's tasty cheeseburger for $2.00, or if you're feeling particularly decadent, go all out for the mouth-watering World Famous Pork Chop sandwich for $4.00.
They're open Monday through Saturday for breakfast and lunch - and just like Wally - they don't work on Sundays.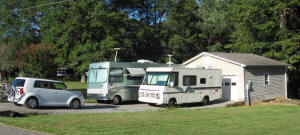 In order to get away from the Labor Day crowds at the campground we moved to Daniel and Jennifer White's house for a few days. They had graciously invited us so we moved to their driveway or White's KOA alongside their RV. They took us to visit some of the parks he was currently working on. I even got to help!!!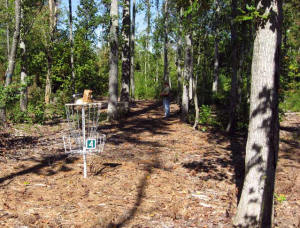 We mounted the numbers on the holes at a new disk golf course that had just been installed.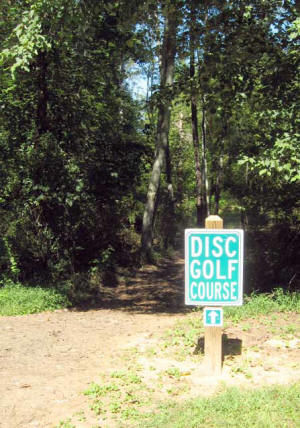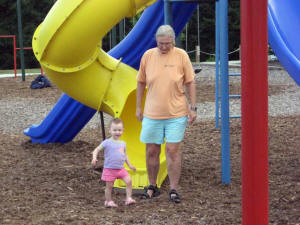 Emma and Judy even got to inspect some playground equipment.

Pilot Mountain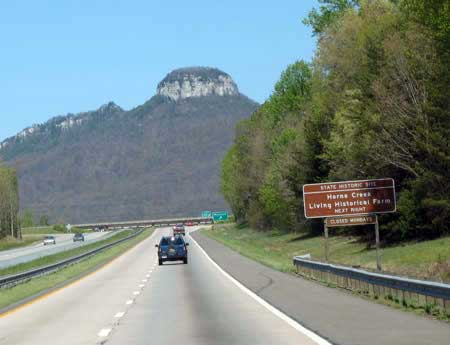 We drove to Pilot Mountain State Park. Pilot Mountain, a quartzite monadnock rising to a peak 2,421 feet above sea level, is one of the most distinctive natural features in the state of North Carolina. It is a remnant of the ancient chain of Sauratown Mountains. Of course it was hot like everywhere else we had visited so we just walked to the overlook, took some pictures and left.
We decided to spend the next few weeks using some of our free weeks of camping we earned volunteering at Virginia State Parks and left Mt Airy on 9/7 for Douthat State Park.

Send Email to: bob@bgeisler.com